HANCI's Council for Older Adults in Niagara County (COA) and Retired Senior Volunteer Program (RSVP) are partnering with the Niagara University's Communication Studies Department for a FREE showing of the movie  "A Beautiful Day in the Neighborhood."
Tom Hanks portrays Mister Rogers in "A Beautiful Day in the Neighborhood,"  a timely story of kindness triumphing over cynicism, based on the true story of a real-life friendship between Fred Rogers and journalist Tom Junod.
Movie Day is taking place at 1 pm on Thursday, March 19th at 127 Dunleavy Hall – on the campus of Niagara University. The movie is FREE, but registration is required to attend.  Please call 285-8224, ext. 215 to reserve your seat.
* As an added bonus, Kimberly LaRussa, Director of Sweet Buffalo & Sweet Buffalo Rocks, will be on hand to share some kindness. Kimberly will also tell the story of "Sweet Buffalo Rocks"  a nonprofit organization that raises funds to bring smiles to children in need.
We hope to see you there!
PS – WEAR YOUR FAVORITE RED CARDIGAN FOR A CHANCE TO WIN A PRIZE!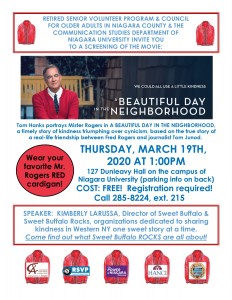 To print the movie flyer, click here: beautiful day