Sponsored by HANCI since 1972, The Retired and Senior Volunteer Program (RSVP) matches volunteers age 55 and older with exciting volunteer opportunities throughout Niagara County. RSVP volunteers help approximately 50 Niagara County not-for-profit, public agencies and organizations, donating over 80,000 hours of service each year. In becoming an RSVP volunteer, you will join more than 400 other citizens in using your skills and experience to meet critical needs throughout Niagara County.
The Benefits of RSVP
Volunteers are eligible to receive mileage reimbursement from their homes to their volunteer stations and back, or they can use their transportation expenses as a tax deduction. RSVP covers volunteers to and from and while they are volunteering with a supplemental insurance policy. Volunteers are also entitled to a free recognition luncheon if they have volunteered 48 hours or more during the program year. In addition, they receive appreciation gifts at the annual luncheon and are also invited to attend various appreciation events that are held throughout the year.
RSVP Funding
RSVP is federally funded through a continuation grant from AmeriCorps Seniors (the Corporation for National and Community Service.) Additional funding comes from the New York State Office for the Aging, the United Way of Greater Niagara, and local contributions.
Volunteer Opportunities
Lockport Area: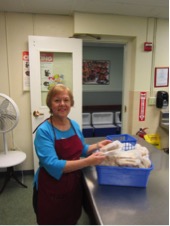 Feed More WNY Home Delivered Meal Program
Niagara County Historical Society
Sister Loretta Soup Kitchen
Lockport Elementary Schools
Wilson Elementary School
Niagara Falls Area:
Catellani Art Museum
Habitat for Humanity
Heart & Soul Food Pantry/Soup Kitchen
Niagara Arts & Cultural Center (NACC)
Niagara Falls Meals on Wheels
Niagara Falls Elementary Schools
Niagara Falls Memorial Medical Center
Mount St. Mary's Hospital
North Tonawanda Area:
DeGraff Memorial Hospital
Herschell Carrousel Factory Museum
North Tonawanda Meals on Wheels
North Tonawanda Elementary Schools
North Tonawanda Inter-Church Food Pantry
Riviera Theatre
Area of Need for Volunteers:
We would love to get you on our RSVP team! If interested, please download our application here: RSVP Application *Applications can be mailed to: HANCI, Attn: MaryBeth Kupiec – RSVP, 1302 Main Street, Niagara Falls, NY 14301.
WANT TO LEARN MORE? Is your community organization, church, or club looking to book presenters for the upcoming year? Give Marybeth Kupiec a call at (716) 285-8224 ext. 216, or or email Kupiec@hanci.com to schedule a free presentation on the local community's needs and how you can help by volunteering. Download a Brochure here

Check out RSVP in the News: Buffalo-Spree-article-on-RSVP-2021
Pictures from RSVP: