Founded in 1927, the Health Association of Niagara County, Inc., promotes the health, wellness and independence of individuals and families in the Niagara area. Founded in Lockport to combat the ravaging effects of tuberculosis in Niagara County, the organization has evolved with the times to continue meeting pressing community needs.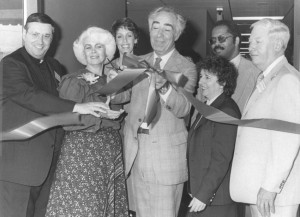 Better known by the acronym "HANCI," the Health Association offers a range of programs that promote wellness and independence across generations. HANCI is known for its licensed home health care program, which is accredited by the prestigious Joint Commission on Accreditation of Healthcare Organizations (JCAHO).
HANCI engages older adults in volunteer work through the Volunteer Center at HANCI, which includes the following programs:
These three programs are funded through the Corporation for National Service, with additional support from the United Way of Niagara County, the New York State Office for the Aging and the Niagara County Office for the Aging.
The agency also serves seniors' educational, social and recreational needs through the Council for Older Adults in Niagara County and its affiliate, the Golden Age Program. Each year since 2003, HANCI has run the popular Senior Prom event, where high school students are paired with older adults from throughout Niagara County for dinner, dancing and fellowship. The "Senior Prom" has become our signature, one-of-a-kind intergenerational event.
HANCI also serves as the parent company to Complete Senior Care – a Program of All-Inclusive Care for the Elderly (PACE). Complete Senior Care is designed to provide participants with a customized care plan so seniors can remain living independently in the community on their terms.
HANCI is a 501(c)(3), nonprofit charitable organization. Led by a volunteer board of directors, HANCI employs over 150 people, manages over 2,000 volunteers and contributes to the community through contracts with over 70 area businesses. Based in Niagara Falls, the agency serves all of Niagara County.