Niagara Falls Residents Honor 9/11 Day
With American Tradition of Service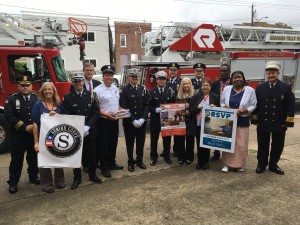 (Photo Caption: from left, HANCI'S Volunteer Center staff members Kim Richbart (director of RSVP) and Kelly Carr (director of Foster Grandparent Program), along with program volunteers, joined Niagara Falls Mayor Paul Dyster to honor Niagara Falls Fire Fighters for their service to our community on the 17-year anniversary of 9/11. Missing from the photo is Nora Aloian, Director of HANCI's Senior Companion Program.)
Niagara Falls, NY– Residents of the city of Niagara Falls joined in patriotic acts of service to mark the anniversary of the 9/11 attacks during the September 11th National Day of Service and Remembrance. Volunteers from HANCI's Volunteer Center (Senior Companion Program, Foster Grandparent Program and R.S.V.P. – the Retired Senior Volunteer Program) joined with hundreds of thousands of citizens across the country in this American tradition.
"September 11th is a day of history, emotion, and reflection," said Kim Richbart, the director of the Retired & Senior Volunteer Program (RSVP) at HANCI. "For many Americans it is also a day of service that provides an opportunity for citizens to put into action a shared belief that by joining our neighbors and local leaders we can make our country stronger and better for decades to come."
As a way to show their sincere appreciation to Niagara's first responders for all they do, volunteers from HANCI's RSVP, Foster Grandparent and Senior Companion programs spent the days leading up to the remembrance ceremony baking and packaging cookie platters for the Fire Companies throughout Niagara County. RSVP volunteers from Opportunities Unlimited delivered the treats.
At precisely 9:59 a.m. on September 11, the Niagara Falls Fire Department's historic ceremonial alarm bells tolled outside the Royal Avenue Fire Station, commemorating the 17th anniversary of the terrorist attacks on the World Trade Center twin towers in New York City and the collapse of the south tower. The following announcement was made during the special ceremony:
"The time is 9:59 a.m., 17 years ago at this very moment brother firefighters of Fire Department of
New York City, Members of the Police Department of New York City and Port Authority Police of
New York City valiantly gave their lives while performing their duties in the South Tower of the
World Trade Center. The City of Niagara Falls Fire Department joins with firefighters and police officers across the world in
remembering the heroic sacrifice made by those 343 firefighters and 60 police officers
17 years ago today."
Members of HANCI's volunteer center personally thanked each first responder and presented the cookie platters.
September 11th was designated a national day of service by Congress in 2009. The Corporation for National and Community Service leads the annual event, working with 911Day.org and hundreds of business, nonprofit groups, faith-based organizations, and schools nationwide.
This year, thousands of volunteers of all ages and backgrounds in both rural and urban communities are expected to join their neighbors in delivering meals, repairing homes of veterans and military families, refurbishing schools and community centers, preparing care boxes for the military and first responders, collecting food and clothing, signing up as mentors, reading to children, and more.
#####
* The Health Association of Niagara County Inc. (HANCI) is a not-for-profit community organization that provides caring, proactive, diversified programs and services that promote independence and a healthy lifestyle across generations. (HANCI.com)
** The Corporation for National and Community Service is the federal agency for service and civic engagement. The agency engages millions of Americans in citizen service through its AmeriCorps, Senior Corps, and Volunteer Generation Fund programs, and leads the nation's volunteering and service efforts. For more information, visit NationalService.gov.