HEALTH ASSOCIATION OF NIAGARA COUNTY, INC. (HANCI) SHOWS OFF NEW TRAINING SPACE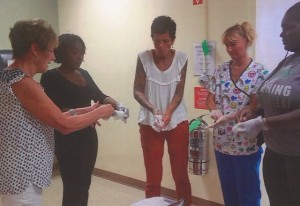 Photo caption, from left: Instructor Sharon Farrugia, RN, is teaching safety techniques to future personal care aides (PCA) Tyffany Mullen, Debra Corsette Magin, Tammy Johnson and Shaikuavia Byrd at newly renovated training space at HANCI's headquarters in Niagara Falls.
As a personal care aide with HANCI, you will be joining one of the five fastest growing jobs according to AARP. You can also earn a good living with benefits, work flexible hours that you choose, and you can change lives for the better as part of your job.
HANCI President & CEO John W. Kinner has made the process of becoming a personal care aide for HANCI more accessible to local job hunters. "Our entire home care team was proud to kick off our inaugural PCA training class this week in renovated space within our headquarters on Main Street in Niagara Falls," said Kinner. "This expansion of services is not only exciting, but fits perfectly within HANCI'S mission to serve the Niagara County community, which we have been doing well for over 90 years."
Personal Care Aides (PCA's) provide essential care to enable seniors and those with disabilities to reside safely in their homes and continue to participate in their communities. They also provide help and assistance to caregivers.
Skills you will learn in HANCI'S free PCA classes include: personal care skills, safety and injury prevention, nutrition and meal preparation, working with people with disabilities, budgeting and working with children. Once you have successfully completed the class and obtained your New York State Department of Health PCA certification – you will be eligible for immediate employment at HANCI.
"All of our personal care aides approach their jobs with a sense of compassion and respect," said Anne Wiley, BSN, HANCI Home Care Director. "They understand they are not just providing needed home care – they are also a link to the outside world for people limited by the effects of illness, disease or aging. Our home care team is dedicated to making a difference."
If you are interested in learning more about HANCI's free PCA training classes, please call 716-285-8224. Ext. 239 to start the application process.