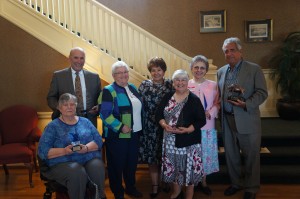 (Photo: From left: Judith Bongiovanni, Gary Tucker, Sr. Beth Niederpruem, HANCI Board Chairwoman Mary Ricciardi, Teresa Torre, Sr. Concetta DeFelice and Gary P. Hall )
NIAGARA FALLS, June 20, 2016 – The Health Association of Niagara County Inc., presented six awards during its annual meeting & luncheon, which took place on June 15 at the Niagara Falls Country Club in Lewiston.
Gary Tucker, President & CEO of Mount St. Mary's Hospital and Health Center, has been a friend to HANCI for many years and was presented with the Outstanding Sponsor Award. The Outstanding Sponsor Award recognizes the outstanding contributions of an individual, business, agency or other non-profit who directly supports the mission of HANCI. Also honored was Teresa Torre, who received the Chris Richbart Heart of HANCI Award for being that person in our community who exemplifies all elements of HEART – honesty, excellence, respect, compassion and teamwork. The Outstanding Partner Award was presented to Gary P. Hall, President & CEO of Waste Technology Services. Mr. Hall demonstrates leadership and a commitment to making our community a better place. Gary goes above and beyond to help others and encourages others to raise the quality of life in our area.
The 2016 Chairperson's Awards for Distinguished Service were presented to Sister Concetta DeFelice, OSF and Sister Beth Niederpruem, OSF for their many years of dedication and service to HANCI. Special Recognition was also given to twelve of HANCI's Home Care Aides for their loyal and dedicated service to HANCI and the Niagara County community.
Always one of the event highlights is the presentation of the Karen Albond Courage in Caring Award, presented annually to an individual who preservers in service to others despite a disability. Betsy Diachun nominated Judith Bongiovanni, who is confined to a wheelchair due to a chronic illness. Despite her challenges, Judith served as a supervisor in the Niagara County Office of the Aging – working as a social worker to help both children and elderly. She also spends time volunteering and giving back to her community.
See more on the HANCI awards luncheon in the news at http://www.wnypapers.com/news/article/current/2016/06/21/125094/gary-tucker-gary-hall-teresa-torre-honored-by-hanci-at-annual-awards-luncheon