They came… they danced… and they had a blast at the 2018 HANCI Senior Prom!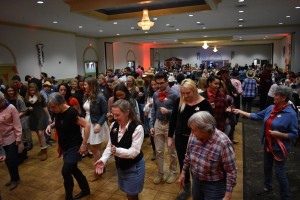 Imagine 400 students and older adults sharing a Sunday meal and then dancing the day away. That's exactly what happened at the 2018 HANCI Senior Prom – Country Jammin'! Antonio's Banquet & Conference Center in Niagara Falls was again the location of HANCI's annual one-of-a-kind inter-generational event.
The Prom is an inter-generational event that pairs a high school student with a senior citizen "date" for a day of dinner, dancing, music and fun.
Participating schools from across Western New York include Canisius High School, Cardinal O'Hara High School, Grand Island High School, Lewiston Porter High School, Nardin Academy, Niagara Falls High School and Niagara Wheatfield High School. Further, this year Niagara University's School of Nursing will be sending volunteers along with their "Soar Throats" acapella group, who will be performing.
* The HANCI Senior Prom, a free community event,  was made possible by the generosity of the following sponsors: Antonio's Banquet & Conference Center, Aries Transportation, Capitol Cleaners, Cataract Safe & Lock Co., Complete Senior Care PACE, Fashion Outlets of Niagara Falls USA, Health Systems Services, John Lagomaggiore Photography, Kiwanis Club of Lewiston, Lawley Insurance, Maid of the Mist Corporation, Marion Foti, Foti Law Firm, National Fuel, Niagara Rehabilitation & Nursing Center, P & A Administrative Services, Sage Management Corporation/Dr. Irene Elia, Swiantek, Kling & Pasieka, LLP, Synchronet, Town of Niagara/Supervisor Lee Wallace, Unifrax Corporation & Wegmans.
The HANCI Senior Prom was created almost 20 years ago by the HANCI Board of Directors to break down barriers between generations and teach students the importance of community while enhancing the lives of seniors. Along with dinner and dancing, guests will enjoy a photo booth, D.J., line-dancing lessons, a huge candy/popcorn bar and over 60 prizes were given away.
Enjoy the Pics!